Saturday, July 30, 2005
QUIET ON THE CAMPUS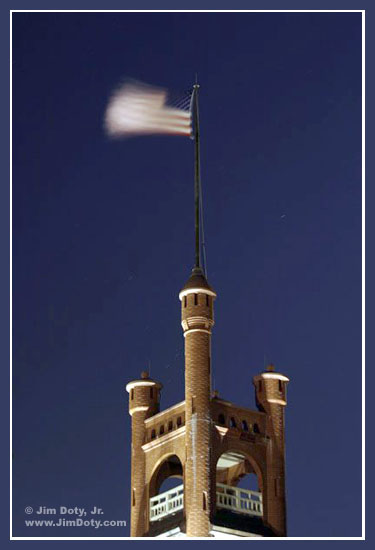 The last of the cars, vans, and buses have left. The sports fields are empty. The noise of activities in the Closson Center have faded away. Happy voices in the MSC are just a memory. There are no shouts echoing down the halls of the dorms. Another week of SPEC is over. Tired campers and staff are crossing the country and some of them are circling the globe on their way home. Some will drive a few hours, others will take several days.
The campus is quiet - almost unnaturally so. This place wasn't built to be empty - and it won't be for long. More groups will come and go and the place will hum with activity again. Students will arrive for another busy academic year in just a few weeks. But for now, just the calm of an evening summer's breeze.
Until next year, May the Kingdom Be Yours.
Seventy Jim
SPEC - TRAVEL DAY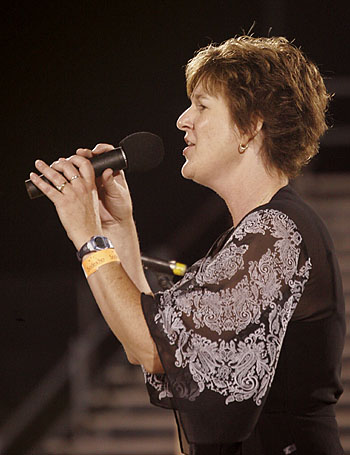 Good (very early) Morning Readers,
This will be very short this morning. Today we have final worship, pack-up and travel.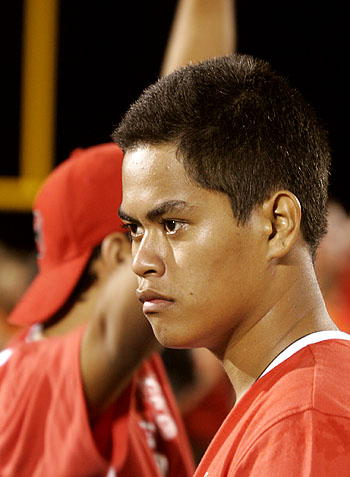 Today I have a request. Please pray for us, and all the travelers, a safe and uneventful trip, and that the drivers will be alert and make wise decisions. And that God's Spirit will even today in worship and on the drive, touch these young people with unmistakable Presence, and Love.
Thanks.
Seventy Bob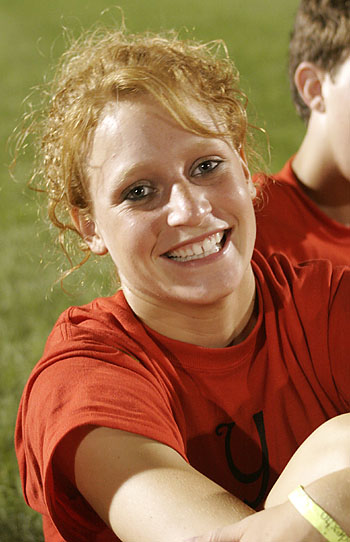 Friday, July 29, 2005
SPEC - Day 6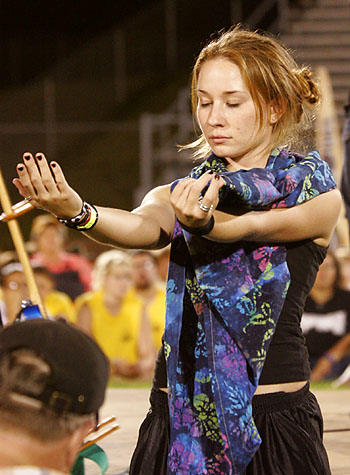 Good Morning Readers and Peace Be Yours
We used to have a phrase in the army to count down the days until something was to happen. We'd say "so many days and a wake up." Well we're at one day, and a wake up. Today is the last full day of SPEC, Saturday we wake up and head home. But what a great time it's been.
Yesterday's breakfast was waffles, eggs, tater tots, and back to the shaved ham stuff. We won't let the kids boo stuff that happens so I'll just say Yea for the memory of sausage. We did have cinnamon rolls again.
It was the second sleep in day and it seemed everyone but this reporter took advantage of it. I just love mornings, and time spent with you all, faithful reader.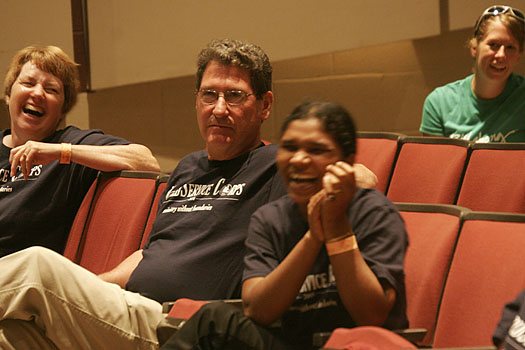 Our Leadership class yesterday was with Apostle Jac Kirkpatrick and the crew from Youth Service Corp. These are young adults who agree to work for the church for a year or two in some country in which the church is organized. Some of the young staff here at SPEC will be leaving Monday for two years in Australia. Others may go to Africa, Sri Lanka, and other exotic places. It's quite a commitment for a young person to make.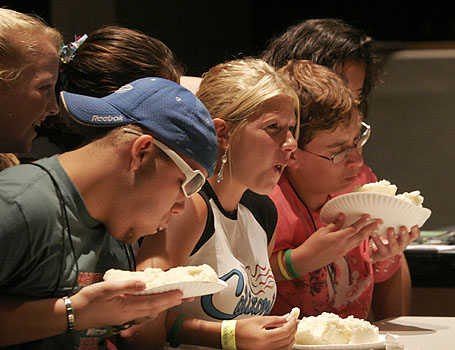 As part of the class Jac had the kids try eating as much as they could, of an African bread dough type substance, that's a staple in Africa, in about 90 seconds. Oh yea, the person standing behind you was your hands to feed it to you. The winner received a small prize. It looked like it didn't taste very good.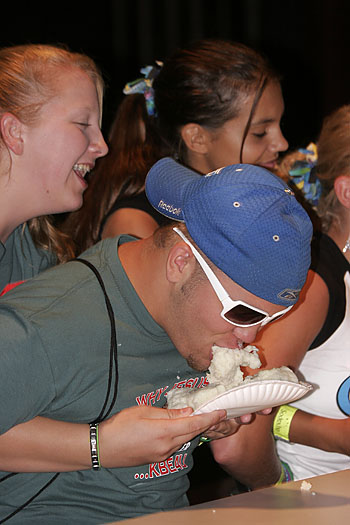 Jac And the World Service Corp youg adults addressed the theme, "Why Now." Why now means both the present and presence.
Present
, because right now is the only time you really have to share God's
presence
in the place you are, with the person you're with. Jesus was present to the culture he was a part of. And his mission was to present the saving power of the Gospel to those he was present with.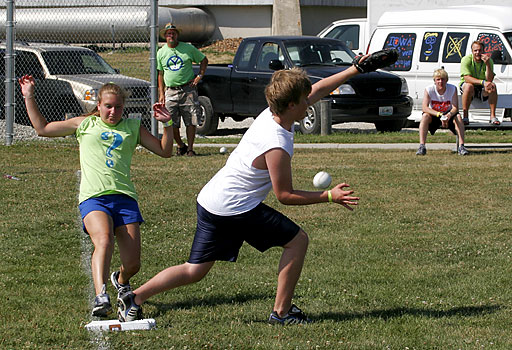 After lunch was all the sports competitions. The Rockies did well yesterday, and we had fun.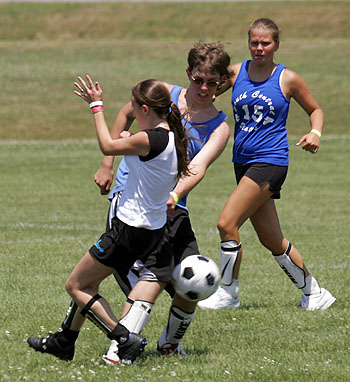 Last night was the all campus Communion Worship. We met on the lawn in front of the library, if you're familiar with the campus. It received mixed reviews from the campers in the Rockies. There was good music, excellent focus moments by Dave Schaal and Steve Veazey of the Presidency. And Ted and Lee offered ministry through a short drama depicting the "cast your nets on the other side" story. It was awesome.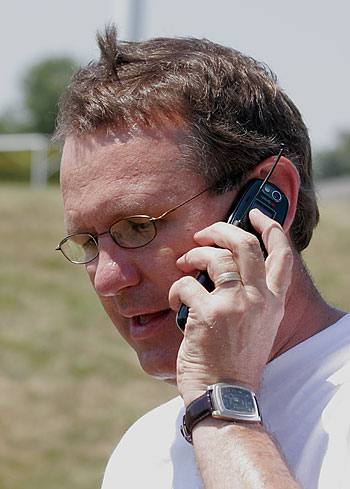 And so it goes. It has been a great experience; this reporter does miss home though. I'm ready. And I'm also ready to go home and in my dealings with the every day, work-a-day world, accept the overall message of SPEC, which is, KBE4U, which stand for the KINGDOM IS BIG ENOUGH FOR YOU. Of course the implication, in fact the modeling of Jesus is that the kingdom is big enough for the outcasts as well as the in crowd. May God bless you, and others through you as you help expand the kingdom and invite all in.
Seventy Bob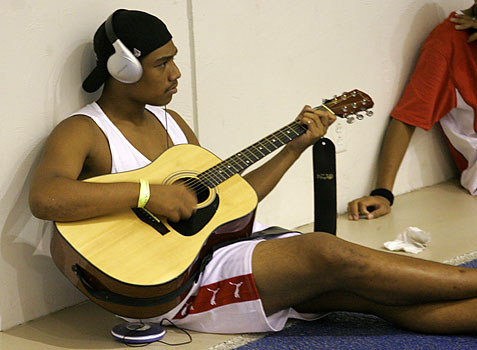 SPEC photo albums are
here
.
Thursday, July 28, 2005
SPEC - Day 5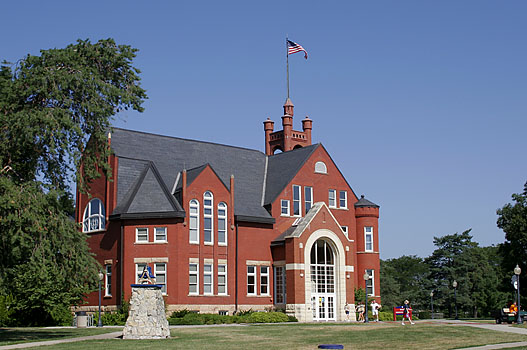 Good Morning Readers Peace Be With You,
Yesterday was an absolutely SPECTACULAR day. The temperature was wonderful. The sky was a glorious blue. The sun shone brightly. And the mood was joyous.
Wednesday is the first of two sleep-in days for the youth and staff too, I guess. This reporter has far too much life to enjoy to waste it sleeping. Breakfast was French Toast and sausage patties. Yea sausage patties!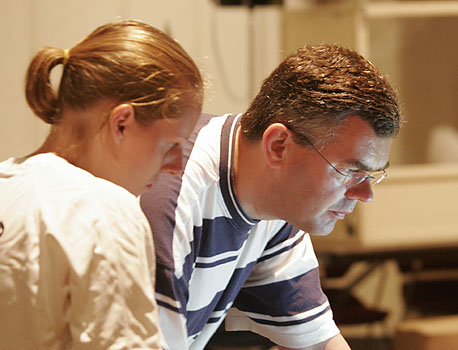 On sleep in day we don't have morning Worship all together in the gym. So the first activity of the day is the mandatory leadership class the delegations attend with one or two other delegations. By tomorrow we will have attended all five theme classes. Yesterday's was "Why Here?" Wim VanKlinken talked with us about the fact that "Why Here" only starts here at SPEC. Here we get a powerful visual of the world wide community we belong to as part of the Community of Christ. Here with Americans, Polynesians, Brits, Aussies, Koreans, Central Americans, and Russians, to name just a few, we can really have a sense of God's love for all people, and also a wonderful picture of our Christian care. So the "Why Here" is any and everyplace we are. And our community is all the people in that place. Our call is to be part of the transforming power of Jesus to heal and reconcile one another.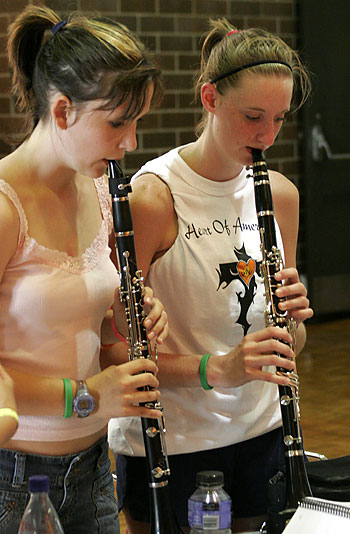 SPEC only takes place here on the campus of Graceland, but IYF this year, for the forst time is taking place in four locations world wide. First was Hong Kong, second here at Graceland, next in Kenya, Africa, and finally in Honduras, Central America.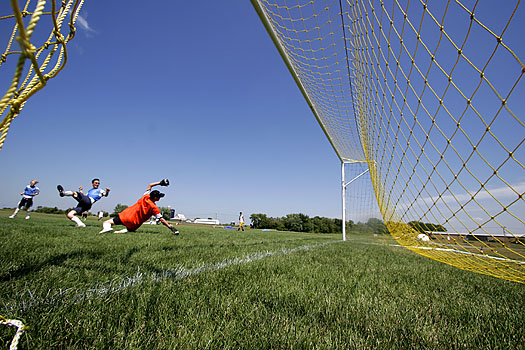 Classes rounded out the morning. And sports continues to go well. We've been splitting our games pretty well, but win or lose we have fun. Softball we won last evening. That was fun. The one shining star for us is our Quiz-bowl competition. It's a lot like the old College Bowl show. Four teammates on each side with buzzers. Fifteen questions, only one answer, no conferring. Then the ninety second lightning round. 10 questions, only the captains answer is accepted, conferring is encouraged. The last round is a ten question choose one of two topics. The other team gets a chance to answer the ones you missed and then they get the other topic. It's fun and so far we're undefeated.
After softball we loaded up all our delegation and took them into Lamoni, to the Pizza Shack for dinner. It's the local pizza place and has been here almost since the college has been. There is a Johnny-come-lately Pizza Hut, but most folks like the Shack.
We were invited to share devotions last night with the Calizonia Delegation. A few of our people participated in various roles. It was nice.
The experience is drawing toward a close. We leave the mountain top and go down into the valley to share the Joy of the mountain. As your young people come home, and back into the community there, ask them about their experiences here and at IYF. They have a sacred story to share.
Seventy Bob
SPEC photo albums are
here
.
Wednesday, July 27, 2005
SPEC - Day 4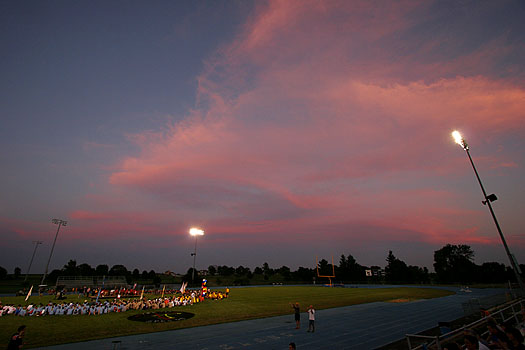 Good Morning Readers - May Peace Be With You,
What a day we had yesterday. When this reporter awoke it was raining - HARD. It rained all morning and part way through the afternoon. Sweat wet turned into rain wet, only lots wetter. And probably twenty-five to thirty degrees cooler. It was wonderful. This reporter even saw sweatshirts and long pants. I didn't participate in that.
Breakfast yesterday included waffles and sausage. Yea sausage! Oh, and chocolate milk was added along with cinnamon rollls. A Spectacular breakfast indeed.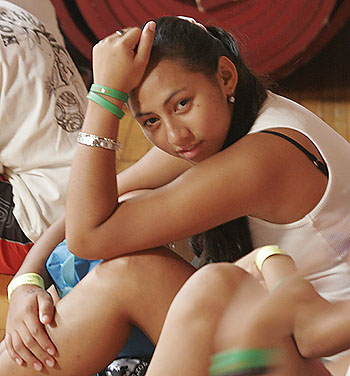 At Morning Worship we were given the daily theme bracelet. It just dawned on this reporter that I've failed to mention the daily theme has been presented on those colorful rubber bracelets you've probably seen kids and adults wearing. We are building a rainbow on our wrists. Green, yellow, and red so far. Yesterday was "Care for All." We entered the gym serenaded by the Tahitian delegation with blended voice, a ukulele, and wonderful percussion. I never tire of listening to the Tahitian's sing, youth or adult. In worship were challenged to get involved in three projects that will change community life in three places in the world. The challenge is to raise a roof (on a church in Africa), build a bridge (over a river in that divides a village and keeps people from easy access to the farmland on the other side), and to construct a basketball court (in the West Bank of Palestine for children to learn to play for peace.) Our goal, $15,000. 1000 youth @ $5 = $5000 and 500 adults @ $20 = $10,000 at an offering taken later in the day.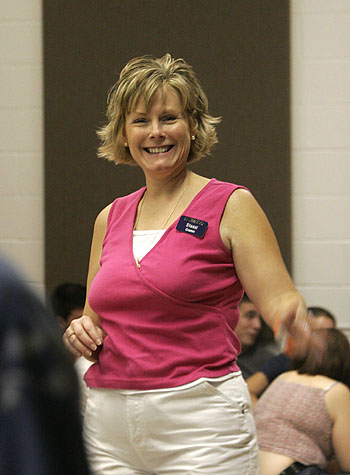 Our Leadership Class was presented by Apostle Stassi Cramm and Moana Faana from Hawaii. (Hawaiian's pronounce all the letters, so you say Mo-ana Fa-ana). They addressed the theme "Why Jesus', Here's Why." Stassi showed slides of seeds and flowers and talked to us about the difference between potential, and potential realized (or fulfilled). Every seed has potential. But not every seed fulfills that potential. Some seeds fall on the path - well you know that scripture. Jesus doesn't just want us to live a good life - He wants us to live that life for others. To specifically reach out to those marginalized by society at large, and to use our gifts and talents to relieve suffering and bring healing. Why? Because we've each heard the story, felt the Master's Touch, and have the potential to touch others. Will your seed flower?
It was so uplifting to this reporter to watch children play yesterday. Not sports. But to run and jump in puddles, to splash each other (and anyone within range). And to splash back. To laugh and play and act silly. To play mud ball, and water Frisbee, and whatever exciting waterplay they could imagine. It's just fun to play in the rain!
The outdoor sports were fun too. Sliding into base in softball was much easier and more fun when the entire field was one huge slip-n-slide.
I guess it was appropriate we had fish for supper. A silly swim meet was held last night with races like the corkscrew and tandem backstroke. It was held in the pool, even though there were a couple puddles on campus that would have worked equally well. Others attended the "Lost and Found" concert.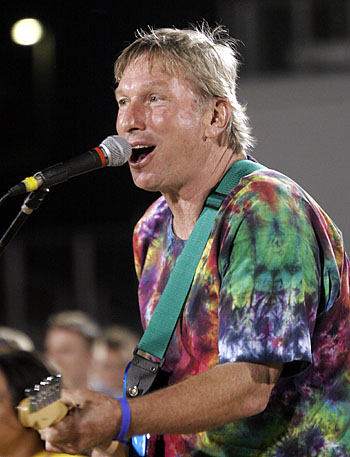 Last night was the all camp worship. By the time we gathered in the bleachers on the football field the rain had stopped. The SPEC band, Jim Valley (did I mention that "in the day" Jim Valley played lead guitar for Paul Revere and the Raiders? He replaced Drake Levin in 1966), Ted and Lee all brought wonderful ministry. Two campers from Southwest Delegation (I'm sorry, I didn't catch their names in all the noise and excitement) shared a song they wrote for IYF. An offering was received to meet the challenge of the day. No word yet on the amount raised so far. A second offering will be received at Thursday's worship as well. Hopefully we can meet the challenge and raise the $15,000.
Last night the Rockies and the Oklahoma Delegation combined for evening devotions before bed. A larger group brings a different dynamic to devotions. It was a late evening, but a wonderfully cool sleep. This reporter even pulled the sheet up because of the fans bringing in the refreshing cooless.
As you go about the work-a-day it's my prayer that God's Peace will be yours, and that you will be open to God's leading into who might need to hear about that Peace from you.
Seventy Bob
Tuesday, July 26, 2005
SPEC - Day 3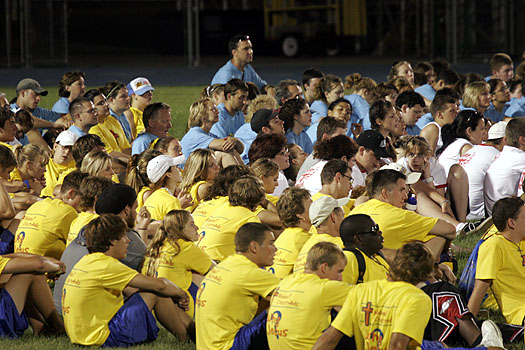 Well Good Morning Readers,
And a fine morning it is. Way cooler, and a little living water to refresh the parched earth. As I look out the widow, the streets glisten and shine and even in the pre-dawn light I can tell the gutters are running full. A day like this will bring it's own challenges. Depending on how hard and long it rains many of the outside games may be cancelled. Everything takes longer in the rain, and walking from class to class, and to meals is messy. But life is often messy.
The day-to-day at SPEC is similar in many aspects, and yet each day brings it's own unique challenges, perspectives, and blessings. Breakfast was a copy of Sunday except hash browns replaced the potato cakes and shaved ham replaced the bacon.
Worship was cool because added to the slate was a presentation by "Ted and Lee." These guys use drama and humor to deeply impact the worshiper with God's truth as interpreted by them from scripture. The selection for yesterday had God in conversation with the Angel Gabriel, about "starting over"; wiping out all of creation that God was displeased with, and beginning again. Gabriel tried to talk God out of destroying all of creation. After trying to get God to save the earth for fifty righteous people, then thirty-five, and fifteen, Gabe finally talked God into saving Noah and his wife, his sons and their families, and all the creatures, crawlers, creepers, lumberers, and flying things. It was very painful to watch the disappointment in God, as creation had seemed to stray so far from it's purpose, and misused so much of what God had created for man's good. Ted and Lee are two of this reporter's favorite ministers. And their unique way of bringing ministry through drama is powerful and poignant. Ask sometime to see the videos of their work.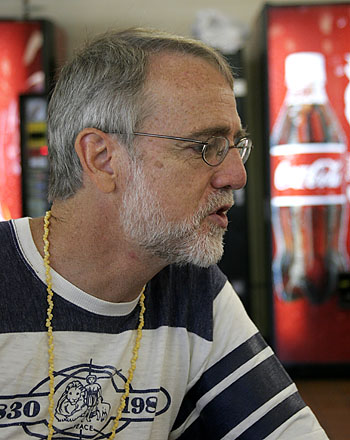 Our Leadership class was with Apostle Dave Brock. Dave had many of the Tahitians up front with him playing the traditional percussion instruments and singing. They were there because the theme was "Why Together" and Tahiti was the first place the Community of Christ sent missionaries in the early 1840's. Some of the Tahitians shared about what they felt were the good parts about the church bringing Christianity to their island. "Why together" is because we are together, linked by a common creator and purpose. We give and receive ministry in community. As we share out gifts and strengths we are a mosaic of color and beauty, creativity and purpose. In community we can do greater things. In community we have a place called home.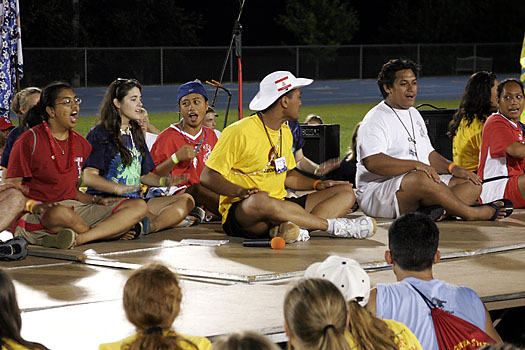 The youth then headed out to spend the rest of the morning in their two elective classes. Stone carving, drawing, painting, as well as a class on relationships and dating seem to be popular classes.
After a wonderful, gourmet lunch, the youth headed for their respective team and individual sports. The Rockies have two co-ed volleyball teams and one co-ed softball team. We have a couple individual girls who are farmed out to other delegations who have volleyball and basketball teams on a more competitive level that our teams play. That way they get to play more to their skill and competence. On days when the heat and humidity are as high as they were we try very yard to watch out for heat related conditions, heat exhaustion, and the like. It's always a challenge because the kids don't ever want to quit and get upset with us when we make them take a break.
Last night the groups "Lost and Found" and "Ted and Lee" shared in concert for the big event. It was in the Shaw Center, which is air-conditioned. The attendance seemed a little low, a surprise to this reporter.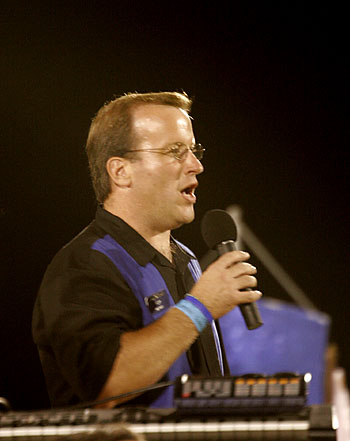 We had a very spirited discussion in devotions last night and most every boy shared. I am always amazed at their life's experiences, their concern for the world, and their ideas on how things ought to be. It's my prayer that God will bless them to fulfill the purpose and potential that was a part of their creation. We will all be blessed. And may God also bless you, dear reader, as you seek ways to fulfill your own purpose and potential in the many and varied communities you interact in every day.
And so we go, out into the rain.
Seventy Bob
Monday, July 25, 2005
SPEC - DAY 2
Well Good Morning Folks,
Yesterday was the first full day of SPEC, starting with a breakfast of pancakes, eggs, bacon, potato cake, fruit, juice and milk. A great way to start the day.
We moved to the gym for worship and daily announcements. Jim Valley, and "Lost and Found" provided musical ministry. "Lost and Found" are two guys who through humor and music share gospel principles. They helped us look at the theme of "No Labels." Labeling often hurts. Jesus lived no labels by associating with people that society had labeled as unworthy, women, children, prostitutes, sinners, and outcasts.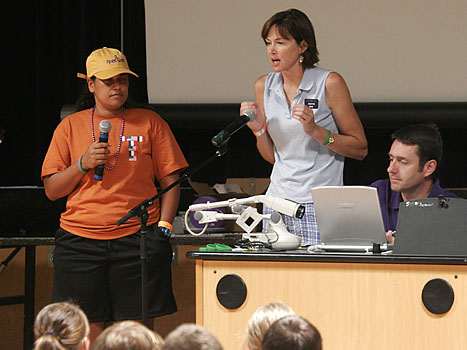 That was followed by the morning leadership class by Matt Naylor and Jeannie Davis, which helped us look at ourselves, and the breath of God in each of us. Balloons brought visual aid to the theme but I think you can visualize balloons and youth. Not an easy combination to control. As Matt and Jeannie taught on the idea of "Why Choose Jesus", they reminded us that Jesus brought to the Disciples and us a new vision of the potential to change the world through generous sharing of our lives and resources. They challenged us to get involved through sponsoring a hunger challenge, voting, signing a petition, etc. Why Choose Jesus – because through Jesus we can change the world.
The youth spent the remainder of the morning in two elective classes on a myriad of topics from performing art, to discipleship classes, to visual arts classes. Learn gourmet cooking, magic, quilting, mud painting, carving and on and on.
Afternoon starts the sports. Softball, volleyball, basketball, soccer, tennis, golf, table tennis (we used to call it ping-pong), swimming, wrestling, and track and field events.
The big event last night was a Hypnotist. This reporter didn't make the show, but some of my cub reporters said it was fun, and funny, although steamy hot in the large room the show was in. Others who missed the show hung out and talked, hacky-sacked, frisbeed, musiced etc.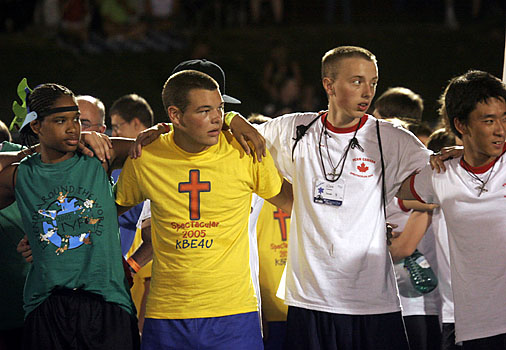 The Rockies gathered for our evening devotions and headed off for showers, and bed. Lights out by midnight. So, until tomorrow readers, spend the day trying not to think about and use negative labels for the people who frustrate and anger you. Look for an outcast to befriend.
Seventy Bob
Sunday, July 24, 2005
SPEC - OPENING DAY
Well Good Morning Readers,
This reporter greets you from SPECTACULAR in Lamoni, Iowa. Yesterday was day of SPEC 2005. Move-in day and opening ceremonies. The drive to Lamoni yesterday was uneventful – the best kind. And we rolled in about 3:00. Did I mention it was HOT!!? My thermometer said 104.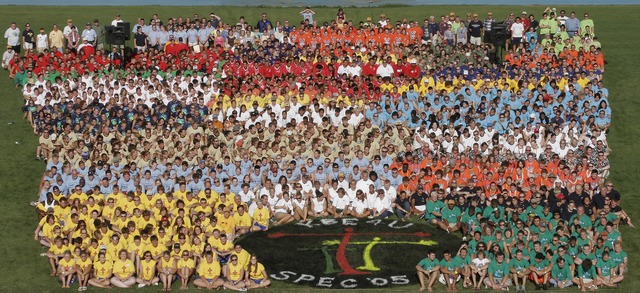 Small version of group photo. The link in the following paragraph will take you to a HUGE version.
The very first activity was the dreaded group photo. Dreaded mostly because we gather on the football field, looking into the sun (Did I mention in was 104) while they try to align fourteen hundred youth and staff for a group photo in which, with a big magnifying glass you can actually see yourself – if you know where to look. You can actually see the photo
here
, compliments of my wonderful partner and photo buddy Seventy Jim. The Rockies are in yellow, near the back straight behind the SPEC logo on the field. We are in yellow shirts (staff in orange) behind white and in front of red. Click on the little picture that will appear and it will get big. With dialup it will take some time to load. Jim will not be here all week and we will miss his photojournalism adding to this column.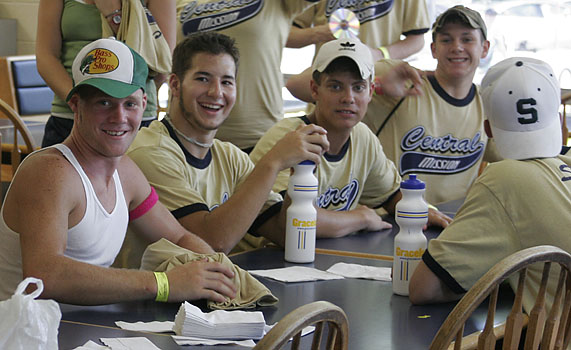 After the picture (did I mention chiggers in the grass) we had supper in a carnival atmosphere from booths with hot dogs, corn dogs, sandwiches, chips, popsicles, water, pop, grilled chicken, etc. Along with blow up games of obstacle, slide and twister. Albums of SPEC photos can be seen
here
.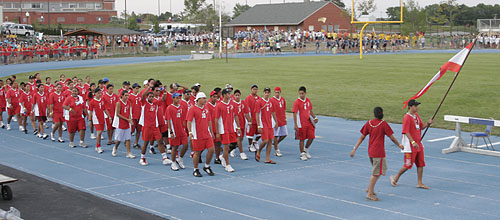 Opening ceremonies was Olympics style with each delegation coming onto the track surrounding the football field carrying their flag and waving, while the announcer offered a short bio on the delegation. We waved and smiled at the crowd and took our place on the field. After all were seated we were treated to Tahitian music and drums, a greeting from the Graceland University President, John Menzies, music ministry by Ken Medema, Jim Valley, and an incredible fireworks show that lasted at least twenty minutes. It rivaled many city and municipal shows this reporter has had the privilege to report on.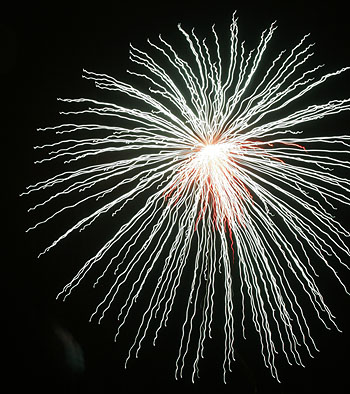 The opening ceremonies was capped off with a campfire type sing there on the football field. The campers had to be in the dorms at eleven and a Rockies tradition is to end the evening with a short delegation devotion lead by this reporter and the other male staff, Kim Starr and Gary Alton, who it's my treat to work with again this year. The devotions were spirit filled.
Today starts the first day of classes and sports – although the sports may be shortened or postponed if the heat advisory isn't lifted. We'll see later on today. Until tomorrow then This reporter wishes you a blessed day and hopes that your Sunday is filled with God's Spirit.
Seventy Bob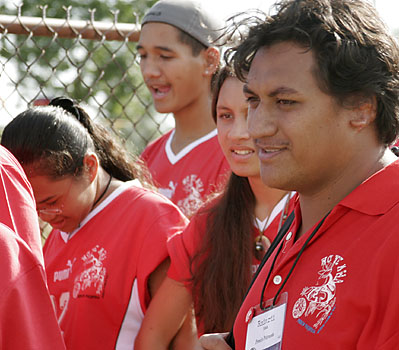 Saturday, July 23, 2005
SPEC GROUP PHOTO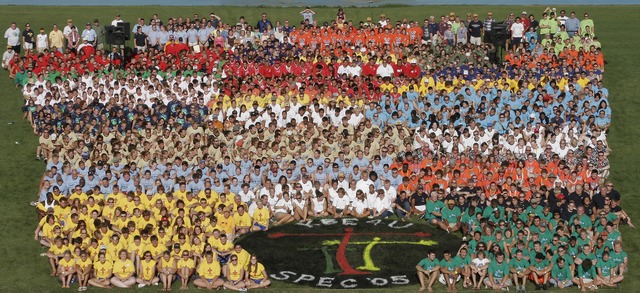 Opening Day Group Photo. Copyright (c) Jim Doty, Jr.
SPEC began this afternoon. After checking in, everyone gathered at the football field for the annual group photo. To see a much larger version, go
here
and click on the thumbnail.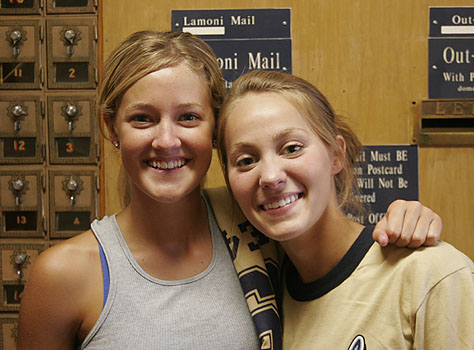 An album of SPEC photos is
here
.
Come back for Seventy Bob's daily SPEC reports.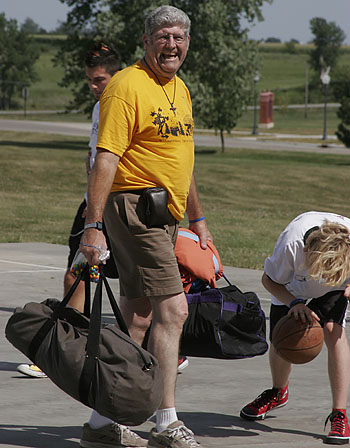 Seventy Bob moving in on opening day
Wednesday, February 18, 2004
SPEC 2005
SPECTACULAR is held each summer during the last week of July at Graceland University in Lamoni, Iowa. Come back then for daily reports.
SPEC reports for 2004 are
here
.
SPEC photo albums for 2004 are
here
.